Realtor Referrals
Let us be your Partner in Property Management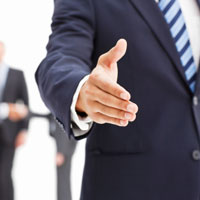 Our practice is continuously growing thanks to the trust and exceptional business relationships we've established with other real estate practitioners.
Please read our pledge and fill out the form or email any questions you have to info@rentcare.net.
Our Pledge to REALTORS®
We will contact you to review your client's needs prior to contacting them.
We will contact the client within 24 hours of receiving the referral.
We will provide an honest, comprehensive market analysis.
We will thoroughly discuss our management program and work to establish realistic expectations.
We will disclose all costs involved up front.
We will maintain open communication with all clients to help them realize their goals and satisfy their property management needs.
We will treat your client with the utmost respect and give them the care, diligence, and attention they deserve.
We will always respect the fact they are your client and they will remain your client. If they decide to sell the property or have additional real estate needs, they will remain your client. No matter how long we manage their property, they will always remain your client.
Referral Compensation for REALTORS®
We will pay you 25% of the Leasing Fee, and...
We will pay you 25% of the first year's Management Fee every month. This ongoing residual income is designed to compensate you as you maintain your relationship with your client.
Refer A Client
(321) 248-4149