by Marc Courtenay in Business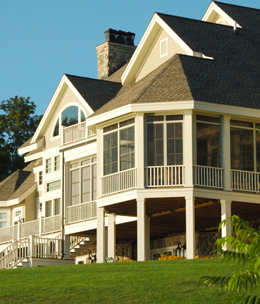 First impression matter as much as ever! Curb appeal still can make a big difference when it comes to attracting quality residents. Don't believe me? Do what I did and interview rental shoppers. Location and the area of town is one of the "Big 3 Criteria" for prospective residents. Affordability was also one of the 3 biggies. Then I asked prospects, "How important are the exterior looks of the rental property?"
Sure enough more than 80% of the people I polled said, in essence, "If it doesn't look appealing upon first glance we don't even stop to look at the rental." My anecdotal poll reminds us that most residents want to live in a house or an apartment building that they're proud of. Owners want residents to "take pride" in the rental properties they own as well.
Since there's a direct correlation between the number of average vacancies per year and the condition of the rental unit, it literally pays in the long run to have properties that look well-maintained and attractive. After you've done the obvious cosmetic improvements like painting, replacing rotting trim and adding touches like window shutters, the way to make your properties look good on the outside is to invest in some low-maintenance but attractive landscaping.
Whether you live in a dry area or not it makes good sense to consider replacing old or sickly shrubs and bushes with some attractive drought-resistant plants. You'll be surprised at how beautiful they are too. Many drought-resistant, low maintenance plants are colorful, have lush texture and bloom during many seasons of the year. Take a look at this collage of amazing photos which will demonstrate the beautiful diversity among these kinds of plants.
These photos also offer a wide variety of landscaping ideas and designs. They include walkways, patios and even a minimalist approach that utilizes an abundance of ground-cover like wood chips and bark dust. Make sure if you have an office for your property management business or apartment complex that it's a glowing representation of your maintenance standards and good taste.
Remember that locations that receive a great amount of direct sunlight are prime areas for this landscaping approach. If the area is blasted with continual sunlight consider a landscape plan that focuses on drought-tolerant perennials. Your local nurseries can give you many ideas on which ones to consider for your region. Emphasize color and how the plants will look when driving or walking by the properties that you're trying to improve.
If you don't have the budget for a full-blown landscape upgrade then pick small, highly visible areas of your rental property to adorn. Make each spot a showcase of good taste that you can't miss or pass by without sneaking an admiring glance. Corners and places away from walkways and parking areas are perfect for beautification.
Finally, we can't all be good at everything we do in our professions. Yet we all have family, friends, employees and local experts who can give us ideas and valuable opinions on what we can do to improve the attractiveness of our rental properties. Ask for ideas and suggestions. You'll be surprised what you'll learn.